Clients
Take a look at some of our recent groomings!
Our Services
What can we do for your pet?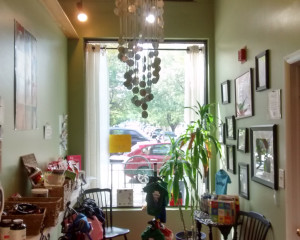 Grooming
Prices of dogs depend on breed, type of hair cut and condition of pet.
Please call for a basic quote.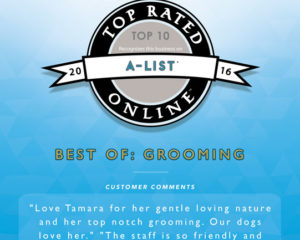 A-List
Top Rated Online recognizes this business as a Top 10 A-List 2016. Best of: Grooming.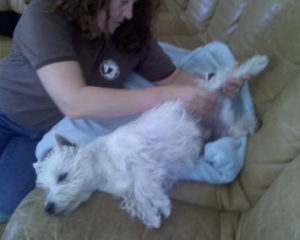 Massage
Massage is a natural aid for pain control, either for post op., the older pet with arthritis, and for injuries that may not be operable, and used for anxiety and aggression.
Testimonials
What our customers are saying!
5 Stars – Tamra is amazing with my black lab, Alli! She offers in home massage services and brings a sense of calm and comfort, allowing Alli to accept treatment and gain relief from her arthritic pain. Tamra identified muscle issues (that I thought were internal joint issues) and her services resulted in noticeable improvement. Alli is walking more comfortably! I highly recommend Tamra for massage therapy!

- Tricia Thompson

5 Stars – Wow! I love this place! I'm so impressed with how well they care for my furbaby! I have never found a pet salon anywhere near as incredible as this place and I'd highly recommend it to EVERYONE! Thanks so much for the doggy massage, teeth cleaning, and hair cuts over the summer! George and I will see you again in December for sure!

- Amy Siebenmorgen

5 star – Everyone here is amazing! So great with my Daisy girl and everyone's pets. I highly recommend all their services- and am exceptionally pleased with the results of tooth scaling and cleaning, which saved me a bundle in not having my girl go "under" for an expensive cleaning at the clinic.

- Heidi Cook

My boys always come home from Peaceful Touch happy and handsome! They do a wonderful job!

- Heather Cochrane

We used to take our longhair kitty Delphkin to Danny's Professional Pet Groom, but he closed up shop this fall–and we found Peaceful Touch. My partner just arrived home with Delphkin and she looks GREAT. He said Bree was really good with Delphkin and it just went really well. We'll definitely be going back.

- Laurah Limbrick

Tamra is a Master Groomer! I've owned Standard Poodles for 40 years and have an intimate knowledge relative to proper cuts and I am very sensitive to my dogs experience. Tamra is the best groomer I've had the pleasure to use and that covers the best in FL, GA, PA and CO. I would recommend Tamra to anyone for any breed or size (we also have a miniature). Not only will you be ecstatic with the…

- Bill McGregor

Tamara Fischer is the goddess of

Dog

and Cat Beautification!

I have been going to Tamara Fischer for my cat an dog grooming for over 12 years. She is the friendliest person to deal with and our pets just love going to see her. The report cards she hands out i really believe that our pets want to get that A+ from her every time. Now that tam has moved to her new location on Marion street it make it even this much easier due to the fact we work…

- Brandy Ranshaw

The Most Caring Groomer EVER!!

Tamra is the Most Caring person/groomer I have ever meet, she has a special way with pets (they too sense she cares, it is not just a business to her.) She is always willing to accommodate my schedule, and takes Great care with my little dog who is 15, partially blind, and arthritic. She too shares the feeling that the experience is more important than the outcome, ("Honey" can be a moving…

- Jeanie Badger